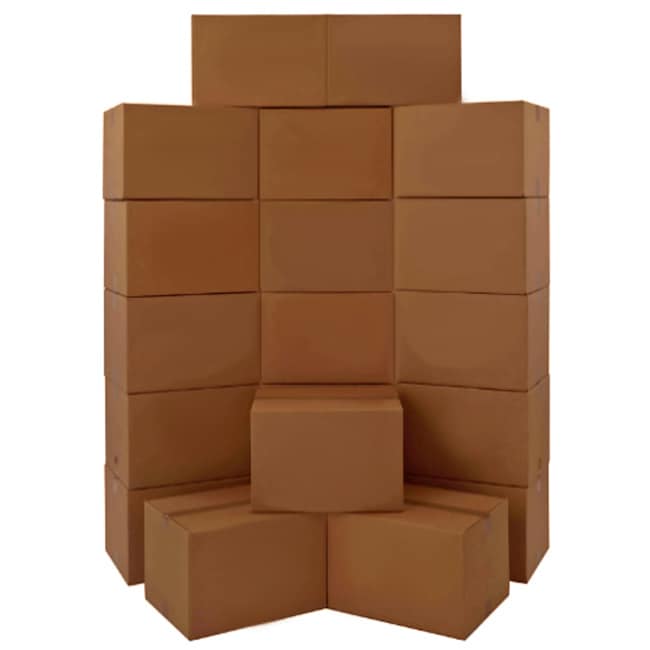 While I am reviewing stuff, let's talk about moving boxes. I explored a lot of options before making my box moving decision . In the end, I purchased boxes from three different companies; Lowes, U-Haul and Next Day Boxes.
Lowes
The majority of my boxes came from Lowes. The positive, Lowes boxes are inexpensive. The negative, Lowes boxes are thin. When I ordered my boxes online,  I figured I would keep them for my next move. I plan on moving again in a year or so. Unfortunately, the handles tore on some of the boxes that had heavy items in them. Also, I saw a number of the boxes sagging, even though I taped them very well. The movers and I agreed these are one time move boxes. For a one time move, Lowes boxes are ok. A medium box costs just $.98. On the other hand, a medium box from U-Haul costs $2.35. Just expect to be recycling these boxes after your move. Also, I wouldn't put anything very heavy in them.
U-Haul
U-Haul is expensive, but its boxes are solid. It is also good for specialty boxes. I used U-Haul for mirror/painting boxes along with the Styrofoam corners and straps to hold them. They kept my paintings very safe. I also used U-Haul for my wardrobe boxes. The U-Haul boxes are definitely reusable and I will keep them in my attic for my next move. For some reason the bar that came with the wardrobe boxes was too big and stuck out the side. Not sure if I got the wrong bar, but I didn't see any other options. So U-Haul is a good option. But again, costly.
Next Day Boxes
My biggest challenge was finding a reasonably priced box for my flat screen tv. Keep those flat screen tv boxes people, because they are expensive. U-Haul offers a kit for packing tvs but it is extremely expensive at $89.95. Other places charged absurd amounts for shipping for their boxes. Look around, you should never have to pay for shipping for moving boxes. Still other places insisted on the purchase of bundles of boxes. I had no need for 5 tv boxes. In the end, I found Next Day Boxes. I was able to purchase one box for my 42 inch tv at a cost of $24.95.  I saved all of the protective packing items from Amazon over a several month period, and I used those pieces along with a blanket to protect my tv. Otherwise I would have needed to buy additional protection to keep the tv from shifting and to pad it. The box I purchased would have worked for a tv up to 46 inches. The box was very thick and I was comfortable putting my tv in it. I have already put it in my attic for my next move.
Supplies
I got most of my supplies from Lowes as well. The tape didn't stick as well as I would have liked, even though it is specifically for packing. As a result, I suggest you look elsewhere for your tape, or go for something higher end. I noticed the tape falling off the bottom of a few boxes. Fortunately I had good movers and they were very careful. The bubble wrap and paper I got from Lowes were fine. Don't skimp on the supplies for your breakable stuff. You will regret not spending the money if something breaks.
Conclusion
All boxes and moving supplies are not created equal. Be sure to check the thickness of the boxes. You might think you are getting a great deal, but very thin boxes like those from Lowes, might not be good for all of your possessions, or if you intend on reusing the boxes.
None of my property was damaged, but I think that is more because of the fact that I had extremely good movers (Crouse) than because of the boxes. Also, I am very good at packing and protected anything breakable with bubble wrap and paper when necessary. I was most concerned to see tape and boxes sagging a bit.
If you want to get cheap boxes, consider buying enough for unbreakable items, and get better boxes for your breakable stuff. U-Haul is very expensive, so I recommend you shop around online for better deals. But U-Haul boxes will definitely keep your stuff safe. They are very well built.
Make sure the supplies you buy are well made. Get plenty of good quality tape, and bubble wrap. Any paper will work, but I did spend about $9 to get paper to wrap my stuff. This is mainly because I don't get a newspaper delivered. I don't know if newspaper ink still runs, if it does, get something else to wrap your possessions. You can get a lot of paper for a low price.
Recycle
Please try to recycle everything you can from your move. A number of places will buy decent boxes, or you can always find people who want them on Craigslist or Freecycle. I am recycling my boxes through my trash company because I do not feel comfortable providing them for re-use for the reasons I have explained.