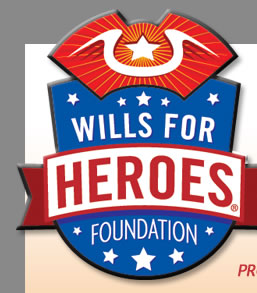 I believe, very strongly, that we, as attorneys, have an obligation to help the public. On the other hand, I also realize that many attorneys are not able to take the time or provide the funding to take on pro bono cases. I am not in the position to do so myself at the moment. This is why I am always pleased when local, state, and national bar associations provide opportunities to help members of the community. I can give a few hours of my time and know that I am giving back to the community, which has given so much to me.
One such opportunity, for which I just volunteered, is Wills for Heroes. In Pennsylvania, the Wills for Heroes program is co-sponsored by the Pennsylvania Bar Association Young Lawyer's Division.
Wills for Heroes involves having attorneys write wills, POAs and living wills for first responders. It is a way of thanking those who risk their own lives while protecting ours. I imagine that having these documents offers a great deal of peace of mind to these men and women as well as their families..
It is not necessary that you practice estate law to participate. The bars that run the service provide a brief training, and a laptop containing software that makes the process easy.
Consider participating in Wills for Heroes in your state. It is your chance to help those who help us.